Secondary Traumatic Stress Among Those Who Investigate Sexual Crimes
Author: Michael L. Bourke, Ph.D..; Sarah W. Craun, Ph.D..
Source: Volume 14, Number 05, August/September 2013 , pp.65-68(4)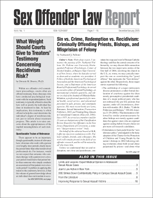 next article > |return to table of contents
Abstract:
A review of what is currently known about secondary traumatic stress in sexual crime investigators (also referred to as compassion fatigue), with a special focus on those who investigate Internet sexual crimes, current empirical findings, and proposed direction for an informed research agenda.
Keywords: child sexual exploitation; coping mechanisms; social support; family; sleep; burnout

Affiliations: 1: U.S. Marshals Service; 2: U.S. Marshals Service.