An Overview of the Research on Day Reporting Centers
Author: Ralph Fretz.
Source: Volume 28, Number 02, Winter 2019 , pp.7-13(7)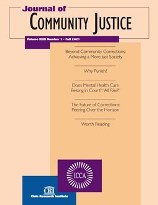 next article > |return to table of contents
Abstract:
This article reviews the research on day reporting centers and makes recommendations for further study. It notes that conclusions about the effectiveness of DRCs in reducing recidivism have been mixed and argues that DRCs should be considered along a continuum of care with multiple service options and settings. It describes the factors that contribute to the success of DRCs and makes recommendations to improve their effectiveness, including the possible use of the HOPE (swift and certain sanctions) model to increase successful program completion. It notes that research on DRCs should be tailored to investigating how to enhance successful program completion using program models that are evidence based.
Keywords: Community corrections, day reporting centers (DRCs), HOPE model, recidivism, RNR principles

Affiliations: 1: GEO Group.