The Sex Offender
Theory and Clinical Practice
Editor: Barbara K. Schwartz, Ph.D.
Now recognized as the most comprehensive, authoritative, and widely cited reference work in the field, The Sex Offender is an eight-volume library distilling the most important research, clinical experiences, and treatment strategies of more than 200 leading experts—a ready source of facts, techniques, strategies, and guidance, updated to keep you on top of cutting-edge legal developments and therapeutic advances. Turn to this authoritative reference for expert assistance on:
Current theory and research. The Sex Offender provides detailed diagnostic profiles of a wide range of offenders and presents an integrative model that lets you draw on a variety of techniques for assessing offenders—male and female,
adult and juvenile—and planning the appropriate treatment in correctional, clinical, or community settings.
Program models for institutional community treatment. You'll find a comprehensive set of tools and strategies for planning and implementing offender programs… specific techniques for assessing and placing incarcerated offenders… and tools for measuring the effectiveness of programs.
Best practices for assessment and treatment planning. The Sex Offender brings together in one reference the full range of therapeutic and clinical tools available today, from clinical assessment methods to psychopharmacological, experiential, and group treatment approaches.
Post-treatment follow-up to prevent recidivism and protect the community. Chapters cover all aspects of aftercare, including approaches for preventing relapses, planning and operating safe, effective community aftercare programs, and using innovative therapies designed to restore the offender's link with society.
Related Publications:
Facing The Shadow
The Sexual Predator
Sex Offender Law Report

Complete in Eight Volumes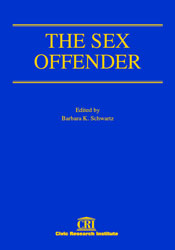 Format: Hardcover Book
8 Volume Set
Price: US $859.50
Product Code: TSO8VS